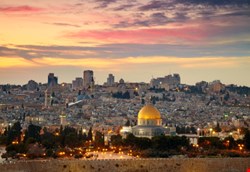 The Carmel Tunnel (Wikipedia), actually a series of tunnels through the Carmel mountains beneath Haifa, is more than 6 km in total length. It is designed to reduce traffic congestion in the city, and can reduce travel time across the city from 30-50 minutes down to just 6 minutes.
On September 8 it was closed for 20 minutes. On September 9, it was closed for 8 hours causing major traffic congestion and disruption. The Jerusalem Post reported simply, "The Northbound and Southbound Carmel tunnel was temporarily closed on Monday due to a malfunction with traffic control. Police are asking local residents to use alternative routes."
But now it appears that the problem was a sophisticated – but not that sophisticated – cyber attack. Earlier this month the Israel Defense Forces (IDF) chief, Lt. Gen. Benny Gantz spoke at a conference at the Begin-Sadat Center for Strategic Studies, and warned that a future war could begin with a missile strike or a cyber attack on Israel's traffic light system.
He probably had the Carmel Tunnel incident in mind. According to a new Associated Press report, "One expert, speaking on condition of anonymity because the breach of security was a classified matter, said a Trojan horse attack targeted the security camera apparatus in the Carmel Tunnels toll road on September 8."
Few details are available, but investigators believe the attack was likely to be the work of Anonymous-style activists – it was sophisticated, but "not sophisticated enough to be the work of an enemy government like Iran." Gantz's comments linking such an attack to the start of a war clearly demonstrates, however, that he believes Israel must prepare for all-out cyberwar in conjunction with any possible land war.
Israel is, of course, accustomed to being both on the receiving end of pro-Arab hacktivism and launching its own cyber attacks. Anonymous has an ongoing #OpIsrael campaign ostensibly in support of Gaza, but the official Twitter page makes no mention of nor claim on the Carmel Tunnel incident. The two most recent claims, both dated 5 August, were for attacks against Israeli companies Bable Engineering and Aganim.
Israel itself was famously – or infamously – involved in the Stuxnet attack against Iran's nuclear program.