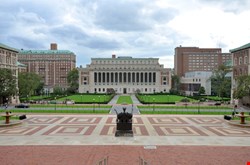 With budgets being reduced across many areas of the US public sector, spending on cybersecurity technology and related personnel has remained a level if not growing market in the wake of the federal government's sequestration experiment.

"Flat is the new up", joked Kevin Plexico, VP of federal information solutions for Deltek. Plexico moderated a panel that included representatives from industry and the federal government at today's SINET Innovation Summit, held at Columbia University.
Citing data from the Office of Management and Budget (OMB), he highlighted why IT security continues to be a strong area for vendors looking to lap up some of the available government milk: IT security spending represents a $12bn market, or 15% of the federal government's overall IT budget. Add to this the 600% increase in cyber threats observed by US-CERT, and Plexico asserted that IT security remains a business opportunity.
"This is one of the few areas of government where we continue to see hiring – where we continue to see investment", he added. "IT budgets are relatively flat, but spending on cybersecurity continues to go up because of the nature of the changes and the threats that we face."
The market for mobile security products and services was one area highlighted by Debora Plunkett, director of information assurance for the National Security Agency (NSA). "The demand is really off the charts, and it's been that way for a couple of years", she commented. "We are just now on the cusp of being confident in the capabilities of the products we are beginning to roll out and have the ability to secure".
Rosemary Wenchel, a deputy assistant secretary of cybersecurity coordination for the Department of Homeland Security (DHS), noted there is increased recognition across the government – and among its appropriators – about the value of cybersecurity investment dollars. Critical areas of necessary spending she identified included virtualization and Big Data management capabilities.
Plunkett further cited policy management and enforcement, in addition to data encryption and integrity as areas requiring solutions and investments. She also agreed with Wenchel's observations: "there is a recognition across government about the importance of cybersecurity…the cuts are not just focused on any one department or agency, and I do believe this recognition will cause the cuts to be less severe. To loose nothing is a win in today's environment".