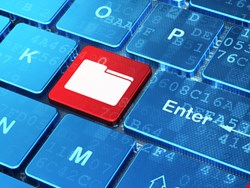 The goto app for file syncing is Dropbox. But Dropbox was originally designed for and adopted by consumers. When the company introduced Dropbox for Business, things just got more confused. Consumers kept their personal accounts, but had to switch to a different account for work – meaning that in many cases they didn't. Work files still leaked onto personal accounts, and personal files were uploaded to business accounts. Dropbox for business didn't solve the basic security issue: companies were losing control over their data.
Now Dropbox has announced a revamped Dropbox for Business. Its solution, it announced Wednesday, is to allow business users to have a personal account tied to the business account. Technically they are separate; but to the user they are just a tab apart.
The company has even attempted to maintain its strength in ease-of-use by building in a degree of intelligence. Dropbox is "smart about making sure your stuff goes where it's supposed to," the company announced yesterday. "For example, photos you add via Camera Upload will instantly show up in the Photos tab, but they'll stay for your eyes only."
However, it is the new security features that will appeal most to security admins. Firstly, the ability to share audit logs brings new visibility to and control over file sharing and access. Secondly, a remote wipe feature allows admins to delete a Dropbox folder from computers and mobile devices, "making it perfect for company departures or device losses," says the company. And thirdly, an account transfer feature allows the seamless transfer of folders from a deprovisioned user to a new user to allow work to continue uninterrupted.
The new developments come at a time when the cloud storage and syncing market, pivotal to mobile computing, is gaining traction. Rival company Box announced last week that it had selected the bankers to lead its IPO expected early 2014. And on the same day as the Dropbox announcement, Amazon announced a rival service called WorkSpaces, sending its shares up by 2%. Google has revamped its Google Docs offering into a complete cloud-based office called Drive, with file syncing and storage capabilites built-in.
Drive has one big strength over Dropbox: collaboration. Key to a future cloud-based mobile workforce will be the facility for secure remote collaboration – and this is not yet available with Dropbox. "If there's a missing piece of the enterprise puzzle," comments ReadWrite, "it might be the absence of collaboration features. Ilya Fushman, Dropbox's head of mobile and business product, suggested those are in the works. For now, though, it's a major omission for any team-oriented service tool."