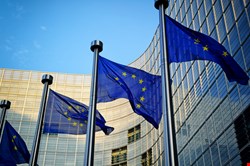 "The next phase of the internet will be data-centered and connectivity-driven," she said, addressing an audience that included German Chancellor Angela Merkel and UK Prime Minister David Cameron, in a speech at CEBIT reported by the BBC. "Cloud computing, big data, the internet of things; tools which support manufacturing, education, energy, our cars and more. The internet is no longer about emails."
To make the leap of faith into this new world, reliability and trust is a pre-condition, she added, noting that the latest news that Merkel's phone was hacked is evidence of a deeply flawed connectivity landscape.
"When even the phone of the chancellor is not sacred, that trust can never again be taken for granted," she said. "Not only that, it is clear that for millions of Germans, and billions around the world, that trust is now missing."
Last week, the European Parliament voted on both the Commission's proposed data protection reforms and the LIBE committee's report on mass surveillance. The former was approved by 621 votes to 10 (22 abstentions) while the latter was approved by 544 votes to 78 (60 abstentions).
The Council of Ministers (that is, the individual national governments) must adopt the proposals before they can become European law, but while 'broadly supportive' there are strong individual reservations. The UK believes that the proposals are too restrictive, while Germany fears they might weaken its existing laws.
"The message the European Parliament is sending is unequivocal: This reform is a necessity, and now it is irreversible," said Vice-President Viviane Reding, the EU's Justice Commissioner, in a memo reported by Infosecurity. "Europe's directly elected parliamentarians have listened to European citizens and European businesses and, with this vote, have made clear that we need a uniform and strong European data protection law, which will make life easier for business and strengthen the protection of our citizens."
Kroes said that greater protections need to be put into place, and that a voluntary approach to data privacy and protection is "not enough, not anymore."
The comments are well-timed given that the issue of increasingly connected devices is not a future concern. "It has been said that the Internet of Things - objects and appliances with embedded sensors and chips capable of communicating online - will result in 50 billion devices being connected to the internet by 2020," said Gary Newe, senior systems engineer at F5 Networks, in a comment to Infosecurity. "Many of these will have little impact on the enterprise (fridges and bathroom scales, for example), but a lot will. Workers will be using more devices to get their work done and they will expect the business to support these devices. Except that isn't a vision of 2020... it's an issue businesses are facing now."
As we move into this world where 'everything' becomes connected to the internet, network perimeters are collapsing, and IT now has to contend with a huge number of devices and a huge number of applications that may well be beyond the traditional corporate footprint.
"As more people, devices and applications get connected businesses will need to be able to scale their architecture to meet the growing demand and ensure security remains a priority in the process," Newe said.