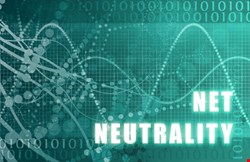 The problem comes with the draft Telecoms Regulation prepared by Kroes. Dr Monica Horten explains, "There is more than one draft that has leaked and they all have some variations on the wording, however, the general intention does seem to be that the European Commission has given in to industry demands to be able to prioritise content and charge for it."
She highlights the critical wording: "providers of content, applications and services and providers of electronic communications to the public shall be free to enter into agreements with each other on the treatment of the related data volumes or on the transmission of traffic within a defined quality of service."
Kroes definition of 'net neutrality' is that the authorities should take a neutral stance in controlling it; that is, ISPs need to be free to negotiate different terms with different customers. It is this that worries the Justice Commissioner; the result is likely to be the opposite of the general understanding of net neutrality.
EDRI, the European Digital Rights organization, has published a leaked copy of Reding's opinion on Kroes' proposed Telecommunications Regulation. Signed by Reding's director general, Francoise LeBail, the opinion of the Justice Commission is that "if not properly ring-fenced, the unlimited contractual freedom of content providers to agree on priority treatment of their content with ISPs will lead to unintended anti-competitive and discriminatory consequences in the medium/longer term."
It goes further: "such limited possibilities of accessing Internet content and services of their choice would run counter to the stated objectives of Article 38 of the EU Charter of Fundamental Rights, whereby EU policies must ensure a high level of consumer protection."
The document from DG Justice , says EDRI, "proves beyond doubt that the Commission would be adopting the proposal in the full knowledge that it is in breach of the European Charter of Fundamental Rights."
Neelie Kroes is expected to outline the proposal to the European Parliament tomorrow. Monica Horten, however, suggests, "If this Telecoms Package MkII goes ahead, it will be one more nail in the coffin for the Internet as we know it. On that basis, Mrs Kroes and Euro-Humph [the Twitter handle of Robert Madelin, the director general, DG Cnect] can look forward to some stressful months ahead."