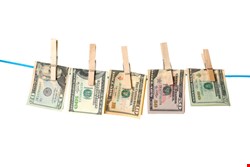 Seven Liberty Reserve employees have been charged with money laundering and operating an unlicensed money transmitting business. "As alleged, the only liberty that Liberty Reserve gave many of its users was the freedom to commit crimes – the coin of its realm was anonymity, and it became a popular hub for fraudsters, hackers and traffickers," said Manhattan U.S. Attorney Preet Bharara in announcing the indictment.
Liberty Reserve is alleged to have had more than one million users worldwide, including more than 200,000 users in the US, who conducted approximately 55 million transactions – virtually all of which were illegal – and laundered more than $6 billion.
Specializing in enabling anonymous and untraceable financial transactions, Liberty Reserve accounts often had names like "Russia Hackers" and "Hacker Account." As part of the investigation, a law enforcement agent opened and executed transactions through an undercover account in the name of "Joe Bogus" and the address "123 Fake Main Street" in "Completely Made Up City, New York."
Investigators said that Liberty Reserve was incorporated in Costa Rica in 2006 and operated the digital currency commonly referred to as "LR." While the company billed itself as the internet's "largest payment processor and money transfer system," it emerged as a one of the principal financial hubs of the cybercrime world, facilitating a broad range of online criminal activity, including credit card fraud, identity theft, investment fraud, computer hacking, child pornography and narcotics trafficking. LR was also used by credit-card theft and computer-hacking rings operating in countries around the world, including Vietnam, Nigeria, Hong Kong, China, and the US, to distribute proceeds of these conspiracies among the members involved.
"The global enforcement action we announce today is an important step towards reining in the 'Wild West' of illicit Internet banking," Bharara said. "As crime goes increasingly global, the long arm of the law has to get even longer, and in this case, it encircled the earth."
Once a Liberty Global account was established, the user could conduct transactions with other LR users, including any "merchants" that accepted LR as payment. It charged a maximum of $2.99 per transfer, but users could also pay an additional "privacy fee" of 75 cents per transaction, which allowed a user to hide the account number when transferring funds, effectively making the transfer completely untraceable, prosecutors said.
After learning the company was being investigated by the US, Liberty Reserve pretended to shut down the operation, but in actuality continued operating the business through a set of shell companies, and moved tens of millions of dollars through shell company accounts maintained in Cyprus, Russia, China, Hong Kong, Morocco, Spain, Australia, and elsewhere. The bust was a coordinated effort with other countries' law enforcement agencies.
"These arrests are an example of the Secret Service's commitment to investigate and apprehend criminals engaged in the misuse of virtual currencies to conduct global monetary fraud," said Secret Service Special Agent-in-Charge Steven G. Hughes. "Cyber criminals should be reminded today that they are unable to hide behind the anonymity of the Internet to avoid regulated financial systems. We are grateful to our many law enforcement partners throughout the world for assistance in this investigation, especially in Costa Rica, Spain and the Netherlands."
Each of the defendants are charged with one count of conspiracy to commit money laundering, which carries a maximum term of 20 years in prison, one count of conspiracy to operate an unlicensed money transmitting business, which carries a maximum term of five years in prison, and operation of an unlicensed money transmitting business, which carries a maximum term of five years in prison.
In addition to the criminal charges brought in the indictment, five domain names were seized, 45 bank
accounts were restrained or seized and a civil action was filed against 35 exchanger websites because the they were used to facilitate the money laundering conspiracy.