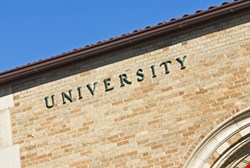 GCHQ has finally certified six UK universities to run new Master's degree courses in cyber security, as part of government efforts to widen and deepen the skills pool for information security.
Earlier this year, universities were invited to submit their proposed degree courses for consideration by the spy agency, as part of the government's National Cyber Security Strategy.
Assessment was also carried out based on advice from academics, government departments, professional bodies and other industry stakeholders, according to a
notice
published on Friday.
Universities will be invited once again later in the year to submit their proposals, this time including Master's courses in related disciplines such as forensics.
Those given full certified status thus far are the universities of: Edinburgh Napier (MSc, Advanced Security and Digital Forensics); Lancaster (MSc, Cyber Security); Oxford (MSc, Software and Systems Security); and Royal Holloway (MSc, Information Security).
In addition, there are two with provisional certified status: Cranfield University (MSc Cyber Defence and Information Assurance), and Surrey University (MSc Information Security).
It is hoped the new courses will help the UK close the information security skills gaps, as well as help employers better differentiate between candidates going for the same job.
The news was welcomed by David Stubley, managing director of UK security consultancy 7 Elements.
"As a highly technical security consultancy we are acutely aware of the skills gap that exists between academia and the commercial sector," he told Infosecurity.

"GCHQ looking to address this can only be a positive step and one we hope will lead to providing graduates with the skills that will enable them to become valued security professionals."
Chris Ensor, deputy director for National Technical Authority for Information Assurance at GCHQ, claimed that academia plays a "critical" role in developing the UK's skill and knowledge base.
"I'd like to congratulate the universities which have been recognised as offering a Master's degree which covers the broad range of subjects that underpin a good understanding of Cyber Security," he added, in a prepared statement.
"I'd also encourage those that didn't quite make it this time around to reapply in the near future, especially as we start to focus on more specialized degrees."
Nigel Smart, Bristol university's professor of cryptology, welcomed the strict vetting of course applications by GCHQ.
"For the first time, UK universities which become certified will have a means to promote the quality of the Cyber Security they teach," he added.
"Over the next few years, as GCHQ certification is applied to more specialized areas of cyber security, I expect the number of UK universities achieving certification of their Master's degrees to increase, thereby helping to raise the overall standard of teaching in cyber security at Master's level."