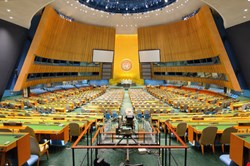 "After heated negotiations, the draft resolution on digital privacy initiated by Brazil and Germany emerged on November 21 relatively undamaged, despite efforts by the United States and other members of the 'Five Eyes' group to weaken its language," reported Privacy International.
Despite this diplomatic language, the compromise reached goes to the heart of the original text: it avoids naming mass extraterritorial surveillance explicitly as a 'human rights violation.'
But the key element remains. It calls on all states to review their procedures and practices in the interception and collection of personal data "with a view to upholding the right to privacy by ensuring the full and effective implementation of all their obligations under international human rights law."
A confidential document obtained and published by Cable FP prior to these negotiations, titled Right to Privacy in the Digital Age – U.S. Redlines shows that the US had sought to revoke the 'international' element. "It calls for changing the Brazilian and German text," reports FP, "so 'that references to privacy rights are referring explicitly to States' obligations under ICCPR [International Covenant on Civil and Political Rights] and remove suggestion that such obligations apply extraterritorially.' In other words: America wants to make sure it preserves the right to spy overseas." ICCPR is intra- rather than inter-national.
If the Five Eyes countries had succeeded in making this alteration it would mean no change to the status quo. All five countries insist that they obey their own national laws. Such a change to the text would provide no moral obligation to obey international laws, and mass extraterritorial surveillance could continue unabated.
In recognition of this, Access, Amnesty International, Electronic Frontier Foundation, Human Rights Watch and Privacy International wrote an open letter to the UN: "As negotiations continue on this draft resolution, we are deeply concerned that the countries representing the 'Five Eyes' surveillance alliance—the United States, Canada, New Zealand, Australia and the United Kingdom—have sought to weaken the resolution at the risk of undercutting their own longstanding public commitment to privacy and free expression. In discussion of the draft resolution, we urge these countries and the entire General Assembly to protect the right to privacy..."
As it currently stands, the draft resolution no longer calls mass surveillance a violation of human rights, but does effectively still condemn extraterritorial mass surveillance.
The UN's human rights committee is expected to vote on the resolution within the next week. It would then require final approval from the General Assembly in December. If adopted it will provide no legal authority, but will indicate strong moral and political condemnation of the type of extraterritorial mass surveillance undertaken by the Five Eyes alliance.