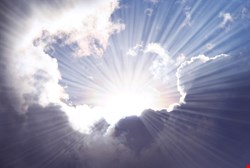 "Not many of us like thinking about death — especially our own," said Google product manager Andreas Tuerk, in a blog post. "But making plans for what happens after you're gone is really important for the people you leave behind."
The feature is called Inactive Account Manager ("not a great name, we know," Tuerk acknowledged), and it's available via the Google Account settings page. You can tell Google what to do with your Gmail messages and data from several other Google services if your account becomes inactive for any reason.
Users can choose to have their data deleted after three, six, nine or 12 months of inactivity. Or, they can select "trusted contacts" to receive data from some or all of the following services: +1s; Blogger; Contacts and Circles; Drive; Gmail; Google+ Profiles, Pages and Streams; Picasa Web Albums; Google Voice and YouTube.
Before such final wishes are carried out, however, Google said that it will send a text message to a provided mobile number and an email to the secondary address to confirm. One assumes that no response is the equivalent of a confirmation.
"We hope that this new feature will enable you to plan your digital afterlife — in a way that protects your privacy and security — and make life easier for your loved ones after you're gone," Tuerk said.
Sounds simple enough to go through and essentially bequeath pictures to one friend, page access to another, or to cancel one's digital profile entirely, but some say that the feature launch should make consumers think about what they are actually providing online, every day.
"Google's new tool is essentially the equivalent of a 'digital will' – giving an increasingly online population more autonomy to decide what happens to their data after they die," said Mark Dunleavy, managing director for the UK at data integration specialist Informatica, in an email. "Of course, it's natural for consumers to be nervous about whose hands their data falls into after they meet their maker. But, in today's information economy, as we expose more and more personal information across a growing number of places, we have to accept that we're going to leave a digital footprint behind after we're gone. It will be up to businesses and consumers to work together in order to ensure this footprint is accessed and protected in an appropriate way."

He also noted that the sheer volume of data is something to keep in mind as we tweet, Skype and Google Doc away at life. "When it comes to dealing with personal data, Google, as well as any other business that attempts to tackle this issue head on, will need an intelligent approach," he noted. "As consumers, customers, employees and social networkers, our personal information is spread across various websites and data storage facilities, both in the cloud and on-premise. This data deluge has the potential to overwhelm the businesses that are busy collecting and making sense of it, and that's why it's so important they have solid data management and protection policies in place to sift through the masses and derive true data value, whilst ensuring they have the full permission of the consumer."
And if that sounds overwhelming, consumers can simply get back to basics. "Surely none of us wants any of that personal, valuable material to be plundered or to have its privacy compromised when we're no longer around," said Lisa Vaas, a researcher at security firm Sophos, in a blog. "Don't wait around for every keeper of your in-the-cloud valuables to come up with a plan for deleting your data, though. To avoid having data fall into the wrong hands, or not getting to your heirs, draw up a digital will along with your regular will. Leave instructions for how to get to your digital assets and what you want your heirs to do with them."