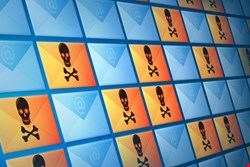 A full 9.3% of spam originated from India in the first quarter of 2012, compared with 8.3% from the US and 5.7% from South Korea, according to SophosLabs' "dirty dozen" report on spam-relaying countries.
At the same time last year, the US led the way as the top spam relayer, while the UK has slipped from sixth place on the dirty dozen list to off the charts. Overall, spam volume has decreased by 47% in the UK over the past year.
Sophos attributed the rapid rise of India to the explosion of internet users in the country, combined with poor information security practices.
Top spam-relaying continents in the first quarter of 2012 were Asia with 46.7%, Europe with 26.9%, South America with 11.9%, North America with 10.9%, and Africa with 3.0%.
Throughput of global email spam messages has decreased since the first quarter of 2011. Spammers are increasingly finding traditional email spam ineffective, turning to social networks to spread marketing spam campaigns instead, according to Sophos.
"While basic marketing spam decreases, the number of messages that spread malware or that represent more targeted attempts to phish usernames, passwords and personal information is increasing", wrote Graham Cluley, senior technology consultant at Sophos, in a blog.
"The latest stats show that, as more first-time internet users get online in growing economies, they are not taking appropriate measures to block the malware infections that turn their PCs into spam-spewing zombies", he added.