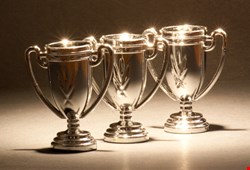 At an award ceremony in central London on Oct. 6, two Infosecurity writers were honored during this year's BT Information Security Journalism Awards, which are intended to highlight the best security reporting in the UK over the past year.
Infosecurity writers received a total of three nominations at this year's awards, with frequent contributor Danny Bradbury earning the prestigious Best Overall Information Security Feature for his article "Digging Up the Hacking Underground".
In addition, freelance contributor Davey Winder received the BT Enigma Award in recognition of his outstanding and consistent contribution to information security journalism. This marks the second straight year that both Bradbury and Winder earned honors from BT.
Ray Stanton, VP of Professional Services for BT Global Services, chaired the judging panel. Other members of the panel included: Dr Robert Coles, CISO and head of digital risk & security at the National Grid; Ron Condon, UK bureau chief, SearchSecurity.co.uk; Graham Edwards, head of group information risk at Centrica Plc; Malcolm Marshall, partner in charge of information protection services at KPMG ; and Prof. Fred Piper, Information Security Group, Royal Holloway, University of London.
"We are honored to have been nominated for these awards, and would like to express our gratitude to BT and our feature writers for their excellent contributions", said Drew Amorosi, deputy editor of Infosecurity magazine. "We are pleased that BT continues to recognize our commitment to providing unbiased, balanced coverage of the security industry and the trends that affect all security professionals."