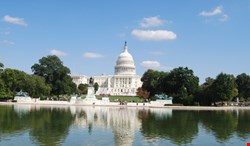 The conference will offer two days of government-focused sessions at a low cost to government employees, with the theme of "Vigilance in the Face of Cyber Set-Backs."
Due in part to recent security breaches that have significantly impacted the bottom line in terms of money, reputation and public trust, the US government's cybersecurity priority has reached an unprecedented height of awareness among its leaders. At the same time, the shutdown, sequestration and continuing resolutions are working against that priority and challenging the very programs established to support the government's security goals.
"After successive years of budgetary challenges, professional education and training opportunities for those who execute government strategies and programs have slimmed down substantially, while at the same time, pressing national security issues, sophisticated attacks, and data breaches are growing at an alarming pace," said W. Hord Tipton, executive director of (ISC)² and former CIO for the US Department of Interior, in a statement. "Our goal with CyberSecureGov is to provide federally-focused educational content at a low cost to information security professionals that will expand their knowledge and inspire vigilance in the face of the government's recent cyber set-backs."
The two-day conference will explore how government security personnel and managers are identifying opportunity in the midst of intense budgetary constraints, what new technologies and policies are emerging to help agencies balance their IT investments and maintain support for a robust cyber defense capability, the status of key security initiatives such as CDM, FedRAMP, HSPD-12 and others, the government's investments in the areas of human capital, IT acquisition, guidance/policy and legislation that is impacting agency personnel and their contractors, and how collaboration between government, academia and industry is working to prepare the federal workforce of tomorrow.
The CyberSecureGov conference program will include both management and technical tracks featuring USgovernment and industry premier speakers. (ISC)² is currently accepting speaker submissions for sessions focused on: APT/malware, Big Data, cloud security and/or FedRAMP, continuous diagnostics and mitigation/continuous monitoring, critical infrastructure protection, cyber leadership, data protection/policy, forensics, government healthcare, privacy and security, mobile security/BYOD, software security, supply chain risk management and training/education.