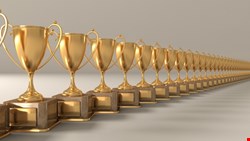 (ISC)² has announced the finalists for its 11th annual US Government Information Security Leadership Awards (GISLA) program, which recognizes federal information security leaders (individuals or teams) whose commitment to excellence is advancing the nation's cybersecurity program in five areas: workforce, technology, process/policy, community awareness and the contractor community.
"Exceptional teamwork and the ability to advance collaboration is a common thread among this year's GISLA finalists," said W. Hord Tipton, executive director of (ISC)² and former CIO of the US Department of the Interior. "Their achievements reinforce the belief that security as a whole will only develop with shared experience, and that professionals in government are committed to making this happen."
In the Federal Contractor category, Sunny Tuneja, president and CEO of AssurIT Consulting Group, has been recognized for the Plan of Action and Milestones (POAM) dashboard. Tuneja is the lone finalist, and winner, for the award.
Erich Fronck, regional information security director for the US Department of Veterans Affairs, is also a solo finalist and de facto winner, in the Community Awareness category. Fronck is nominated for the Privacy and Information Security Awareness Stand-Down.
In Process/Policy Improvement, Jeff Harriss, the team lead for access control at the OCIO-ITS-IOD Operations Security Branch of the US Department of Agriculture (USDA), is a contender for his elevated account reduction project. Kevin Charest, CISO at the US Department of Health & Human Services, is up against him for the HHS Cybersecurity Project.
In the Technology Improvement category, the two finalists are John Rogers, deputy commander, 844th communications group for the Air Force District of Washington, and Jaime Vargas, CISO for the Office of the Inspector General at the Department of Homeland Security. Rogers was nominated for his AFDW Shared Computing Environment (SCE) initiative, while Vargas is being recognized for the DHS OIG Information Security Continuous Monitoring (ISCM) program.
For Workforce Improvement, the team led by Robert Mills, director of the Air Force Cyberspace Technical Center of Excellence, is a finalist for the Cyberspace 200/300 Professional Continuing Education (PCE) team. Also nominated is the team led by David Lickwar, cybersecurity awareness lead for the Transportation Security Administration, for the TSA IT Security Awareness Training Innovation Project.
Each year, a judging committee of senior information security experts from the (ISC)² US Government Advisory Board for Cyber Security (GABCS) along with the broader industry reviews the nominees and recommends finalists based upon selection criteria and eligibility requirements.
(ISC)² officials and sponsors will announce and honor the 2014 GISLA recipients on June 3, at the Crystal Gateway Marriott in Arlington, Va.