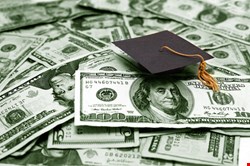 The scholarship application period for 2014 is open; and the application deadline for students and faculty to submit a completed application is 12:00 a.m. EST on April 1.

According to the 2013 Global Information Security Workforce Study, the global shortage of information security professionals is having a profound impact on the world economy. These scholarships not only encourage students to pursue careers in this industry, but they also help address the growing demand for skilled cybersecurity professionals worldwide.

"It is critical that we work to fill society's need for trained cybersecurity professionals by building the workforce of the future," said Julie Peeler, director of the (ISC)² Foundation, in a statement. "For many of these students, their financial situations are challenging and our scholarships provide the funding they need to continue their education. I look forward to impacting more information security students with life-changing scholarships in 2014."

The (ISC)² Foundation evaluates applicants based on academic excellence, passion for the industry, and financial need.

"Since receiving the scholarship, my student life has dramatically changed for the better," said Patrick Katamba, a 2012 and 2013 Undergraduate Scholarship recipient from London Metropolitan University. "Due to this financial support, this year I didn't have to worry about paying tuition fees. As a result, I also cut back on my weekly hours of work in order to fully concentrate on my studies. This change has drastically changed the way I learn and hopefully this has or will be reflected in my final results of the second year."
The 2014 scholarship categories include two women's scholarships totaling up to $40,000, and grants for undergraduate students studying information security of up to $5,000 per recipient.
Graduate Research Projects are also up for grabs: Graduate students often need funding to conduct special research projects, so seed funding of up to eight grants will be given for up to $3,000 per recipient.
Also, the Harold F. Tipton Memorial Scholarship was established last year to provide passionate, aspiring young information security professionals the means to follow the pathway to industry excellence.

Finally, to encourage more academic participation in the profession and the certification process, (ISC)² said that it will provide vouchers valid for one CISSP or CSSLP exam and, upon certification, the first year of membership dues.

"It is both an honor and privilege to be the recipient of the (ISC)² Women's Scholarship," said Catherine P. Delaere, from Capella University. "What does this gift mean to me? Quite simply: opportunity and impact. As a single working mother of two, it means the opportunity to achieve higher education and career goals, increasing my chances of success, while suffering less of a financial burden. It means a positive impact on my children, teaching them by example the importance of life-long learning and pursuing goals; on my employer, by pursuing my master's degree in IT security and assurance which will afford me greater opportunity to obtain CISSP certification, increasing my value and contribution in my workplace; and on me, by allowing me to reach my potential as a career woman and a dedicated IT professional."