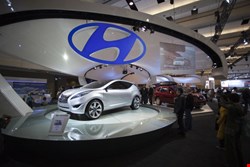 The FSS has sent investigators to Hyundai Capital, the consumer financing arm of auto maker Hyundai Motor Group and GE Capital, after the company admitted that hackers gained access to its customer database and stole personal information and passwords of its customers, the Korea Herald reported.
The data breach occurred over a two-month period. The company was contacted by one of the hackers who asked for money in return for not releasing the customers' information. However, the data breach was only made public after the company contacted the police to investigate the blackmail.
Hyundai Capital said its internal investigation revealed names, residential registration numbers, mobile phone numbers, and email addresses, as well as passwords to loan services were obtained by the hacker.
Police said the hackers gained access to the database using servers located in the Philippines and Brazil.
The FSS is considering punitive actions against the company if violations of the country's financial information security laws are found. The agency also plans to form a task force in coordination with other agencies to investigate information security practices throughout the financial sector, the newspaper said.