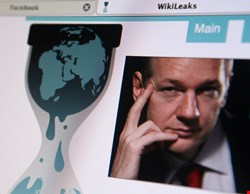 Accused Army Private Bradley Manning faces a total of 34 charges, including aiding the enemy and violating the Espionage Act, for allegedly providing thousands of military reports, diplomatic cables and video of a military helicopter attack in Iraq to WikiLeaks. Now, Manning has offered to plead guilty to various lesser offenses that he is not specifically charged with, according to his lawyer, David Coombs, through a process known as "pleading by exceptions and substitutions."
"To clarify, PFC Manning is not pleading guilty to the specifications as charged by the Government," Coombs said in his blog. "Rather, PFC Manning is attempting to accept responsibility for offenses that are encapsulated within, or are a subset of, the charged offenses. The Court will consider whether this is a permissible plea.
"Pleading by exceptions and substitutions, in other words, does not change the offenses with which PFC Manning has been charged and for which he is scheduled to stand trial," Coombs concluded.
The proceedings are part of a court-martial, where Manning will be tried by a military judge. But the offer of a plea is not yet part of any agreement or deal that the defense has struck with the government, Coombs explained. So, even if the court allows Manning to plead guilty by exceptions and substitutions, the government may still choose to pursue the charged offenses, making the court's approval a moot point. However, if the government accepts the lesser plea and offers a deal, Manning could evade the most serious of convictions, namely that his actions aided the enemy (that would be Al-Qaeda, according to the government), which would land him life in prison.
WikiLeaks has never confirmed that Manning was the source of any documents it released, and to many the 24-year-old is a hero and a truth-seeker, exposing the dirty dealings of the US in its conduct in Iraq. The same characterization is true in some circles for WikiLeaks founder Julian Assange, who has garnered a raft of support from hacktivist groups like Anonymous and Null Crew, whose anti-government bent dovetails with the Australian's transparency cause.
Assange, facing extradition to Sweden from the UK on a sexual molestation charge, has taken refuge in the Ecuadorean Embassy in London. He claims the extradition is just a ploy to place him within the purview of the US government, who would in turn extradite him from Sweden to the US to face treason charges of his own. The US government has denied that it has hatched any such plan with Sweden.
Manning, first arrested in May 2010, is scheduled to go on trial beginning Feb. 4, 2013.