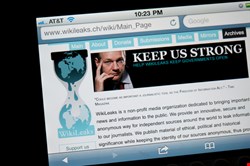 Pfc. Manning will also be stripped of his rank, forfeit all pay and allowances and receive a dishonorable discharge.
Manning is headed for a military detention facility at Fort Leavenworth, Kansas, and will be eligible for parole after serving one-third of his sentence. He already has 1,294 days under his belt thanks to pre-trial confinement and a 112-day credit he received for rough treatment while being held in Quantico, Virginia.
He was convicted on July 30 of 20 of 22 charges, mostly having to do with acts of espionage during his deployment to Iraq in late-2009 to mid-2010. During that time, when he worked in Army intelligence, Manning smuggled out several SD disks with reams of classified information, including contents of Significant Actions files, or SigActs, which detail military actions on the ground in both Iraq and Afghanistan. It is the single largest breach of classified information to date.
Col. Denise Lind dismissed the most serious charge, aiding the enemy, which can carry the death penalty, and reduced the maximum sentence from 136 years in prison to 90. Army prosecutors argued that Manning should serve at least 60 years, while his defense attorney argued that he should serve no more than 25 years. In the end, the judge somewhat split the difference. Lind said that Manning "was both wanton and reckless," while his crimes were of "a heedless nature that made it actually and imminently dangerous to others."
Manning's supporters were hoping for more leniency, styling Manning as a whistleblower looking to do the right thing. They range from WikiLeaks founder Julian Assange to celebrities to 17 European parliamentarians who wrote an open letter to the President Obama asking for clemency.
Manning said in a confession that his motivations for leaking the military information involve human rights and opposition to the way the wars were carried out:
"In attempting to conduct counter-terrorism or CT and counter-insurgency COIN operations, we became obsessed with capturing and killing human targets on lists and on being suspicious of and avoiding cooperation with our Host Nation partners, ignoring the second and third order effects of accomplishing short-term goals and missions.

I believed that if the general public, especially the American public, had access to the information contained within the CIDNE-I and CIDNE-A tables it could spark a domestic debate on the role of the military and our foreign policy in general as it related to Iraq and Afghanistan.

I also believed the detailed analysis of the data over a long period of time by different sectors of society might cause society to reevaluate the need or even the desire to even to engage in counterterrorism and counterinsurgency operations that ignore the complex dynamics of the people living in the affected environment every day."
But according to ABC News, Manning last week apologized for his actions. "I'm sorry that my actions hurt people," Manning said. "I'm sorry that they hurt the United States. When I made these decisions, I believed I was going to help people, not hurt people."
He noted that his actions had "unintended consequences" for which he "must pay a price for my decisions and actions" before he can "return to a productive place in society."