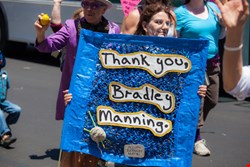 Pfc. Bradley Manning will plead guilty to a lesser offense on one of the 22 counts filed against him.
NPR reports that Army Maj. Ashden Fein told the military judge that prosecutors will no longer seek to convict Manning of violating the federal Computer Fraud and Abuse Act. They had been looking at that charge – which carries a 10-year maximum sentence – in connection with a State Department cable that Manning admitted to leaking in early 2010. The cable detailed a meeting in Reykjavik, Iceland, between US Embassy and Icelandic officials over Iceland's financial woes.
According to NPR, "Manning believed the cable indicated the United States was refusing to help the Icelandic government 'due to the lack of long-term geopolitical benefit.'"
Fein did not give a reason for the change, and reiterated that Manning will face the rest of the charges. He made a courtroom confession in February, acknowledging various violations of military law carried out when he was an intelligence analyst in Iraq. Together, if convicted, those 10 charges will land him in prison for up to 20 years.
Prosecutors also said that they will continue to seek conviction for more serious offenses, such as communicating national defense information to an unauthorized source, and aiding the enemy, a capital offense. Prosecutors said they would instead pursue a lifetime sentence.
In 2009 and 2010, Manning smuggled out several SD disks with reams of classified information, including contents of Significant Actions files, or SigActs, which detail military actions on the ground in both Iraq and Afghanistan. It is the single largest breach of classified information to date.
Manning said that his motivations for doing so involve human rights and opposition to the way the wars were carried out:
"In attempting to conduct counter-terrorism or CT and counter-insurgency COIN operations, we became obsessed with capturing and killing human targets on lists and on being suspicious of and avoiding cooperation with our Host Nation partners, ignoring the second and third order effects of accomplishing short-term goals and missions.

I believed that if the general public, especially the American public, had access to the information contained within the CIDNE-I and CIDNE-A tables it could spark a domestic debate on the role of the military and our foreign policy in general as it related to Iraq and Afghanistan.

I also believed the detailed analysis of the data over a long period of time by different sectors of society might cause society to reevaluate the need or even the desire to even to engage in counterterrorism and counterinsurgency operations that ignore the complex dynamics of the people living in the affected environment every day."
Manning's pretrial hearing began Tuesday at Fort Meade in Maryland, covering classified material that would be used as evidence during the trial, which starts June 3.