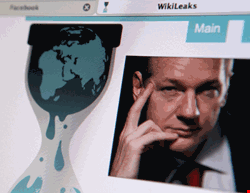 The U.S. Army Criminal Investigation Command revealed Wednesday that alleged WikiLeaks informant Bradley Manning, currently being held at the Marine Corps brig in Quantico, Va., has been charged with 22 additional counts of violating the Uniform Code of Military Justice. This is in addition to previous charges levied against Manning in July 2010.
The Army also added that the investigation is currently ongoing in an accompanying press release announcing the charges.
The military private is accused of being the source of the data leak that provided more than 250,000 diplomatic cables to whistleblower site WikiLeaks, in addition to hundreds of thousands of confidential documents about the Iraq and Afghan wars. The charge sheet provided by the Army and obtained by Wired accuses Manning of stealing the diplomatic cables between March 28 and May 4, 2010.
In total Manning, a former military intelligence analyst, is accused of violating 16 specifications of the UCMJ, including wrongfully causing intelligence to be published on the internet knowing that it would be accessible to the enemy; five specifications of theft of public property or records; eight specifications of transmitting defense information in violation of the code; and two specifications of computer fraud and related activity.
"The new charges more accurately reflect the broad scope of the crimes that Private First Class Manning is accused of committing", noted Army spokesperson Capt. John Haberland in an accompanying statement.
The most serious charge, aiding the enemy, is a capital offense, but numerous reports indicate that the Army's prosecution team will not seek the death penalty. A final decision on whether to seek the death penalty, however, will rest in the hands of the 'convening authority' that will hear the case, led by Maj. Gen. Karl R. Horst, commanding general of the US Army Military District of Washington.
If Manning does escape the death penalty, he could face life in prison if convicted by a military court on all charges.
WikiLeaks, via Twitter, called the new charges "a vindictive attack on Manning".
Manning's own lawyer, David E. Coombs, chimed in on Twitter as well, saying that aiding the enemy claim "was the most significant additional charge".
"Over the past few weeks, the defense has been preparing for the possibility of additional charges", Coombs added in a blog on his website.