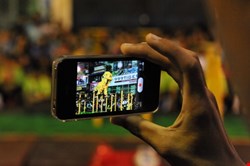 Juniper Research said that despite a steadily increasing consumer awareness of mobile security products, most users actually seem to lack awareness about the very real dangers of online attacks on mobile devices and their potentially dire consequences. There is also a widespread consumer perception that the price of security products is excessive, the firm found.
In the enterprise arena, the trend of bring your own device (BYOD), where employees bring their own computing devices to the workplace, becoming increasingly common and a single policy or measure may not be sufficient. Still, IT departments wrestle with striking on a unified perspective on mobile platform risks.
As we increasingly enter a "post-PC" world as Steve Jobs so famously claimed, cybercriminals are transitioning their focus from desktop hacking to the mobile platform – across both enterprise and consumer segments. Trend Micro recently released data showing that there will be more than one million malware variants in the market by the end of this year. While Google has said that the vast majority of Android malware never makes it to the install stage, the fact of the matter is that the danger is nonetheless lurking in application stores and via mobile phishing – and is growing in scope.
The good news is that the report found user awareness is beginning to turn around. Greater visibility of product adoption levels is helping, with nearly 1.3 billion mobile devices including smartphones, feature phones and tablets expected to have mobile security software installed by 2018, up from around 325 million this year.
Juniper found that as a consequence, there are opportunities for security vendors in both enterprise and consumer segments to drive new revenue as awareness levels ramp up. Growth in the enterprise space for security products is being fuelled by a number of factors, including increases in IT budgets and greater implementation of security policies and security products; along with training for employees. And in the consumer space, despite the prevalence of free security software, the scale of cybercrime's expansion in the mobile arena offers a clear opportunity for the creation of new revenue streams for mobile security providers.
However, Juniper stresses that device manufacturers and security vendors need to strike a balance between security and user-friendliness – often the onus of installing a security app in the first place is enough to deter consumer implementation, no matter the awareness level.