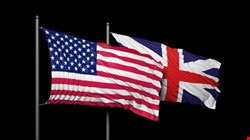 "The Guardian has discovered," it reported last week, "GCHQ receives tens of millions of pounds from the NSA every year, money it has come to rely upon to build and maintain its collecting and decoding capabilities. In turn, the US expects a service, and, potentially, access to a range of programmes, such as Tempora."
This is potentially illegal and certainly embarrassing. Labour MP Paul Flynn has said it demonstrates that Britain is 'the poodle of the US.' "I don't think anyone had any inkling of these payments. Clearly we fool ourselves that we have an independent foreign policy."
GCHQ is expected, in return for payments amounting to almost £100 million, to "pull its weight" in the global surveillance partnership. "It would be against the law in both the US and Britain for us to be in conspiracy with the US government to circumvent the law," Richard Ottaway, the chairman of the UK foreign affairs committee said according to the Financial Times. "I'm sure that cannot be happening."
Sir Malcolm Rifkind, head of the parliament's intelligence and security committee, intends to investigate. "The ISC will be getting a full report from the intelligence services on the details of these stories," adding, "I am not remotely surprised to read the GCHQ and the NSA work closely together and that funding is provided when the UK agencies provide material help for the US."
The likelihood is that the letter of the law will have been satisfied by both GCHQ and the NSA, which commented, "Any allegation that NSA relies on its foreign partners to circumvent US law is absolutely false. NSA does not ask its foreign partners to undertake any intelligence activity that the US government would be legally prohibited from undertaking itself." The NSA is legally entitled to spy on non-US citizens.
Britain is one of the main antagonists of the proposed European Data Protection Regulation. In general, the rest of Europe imposes stronger personal privacy protections than does the UK – and it is fair to say that much of Europe is increasingly concerned about the partnership between GCHQ and the NSA.
For example, reports the FT, "Germany's Green party is calling for the European Commission to carry out an investigation to see whether the UK has broken EU treaties by spying on its partners." And in a move that is probably more symbolic than effective, Germany has revoked a surveillance pact with the US and Britain that dates from the Cold War era. In reality the pact has not been used since 1990; and the move is probably more electoral than practical. Chancellor Merkel faces elections on 22 September.