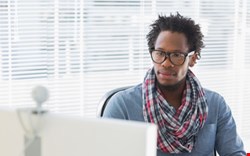 The details are provided in the Guardian's latest report on NSA and GCHQ documents from the Snowden archive. The newspaper writes today, "GCHQ files dating between 2008 and 2010 explicitly state that a surveillance program codenamed Optic Nerve collected still images of Yahoo webcam chats in bulk and saved them to agency databases, regardless of whether individual users were an intelligence target or not."
The potential value of this program for possible intelligence purposes is clear. Intelligence and law enforcement agencies have long been keen on the use of facial recognition to locate and follow terrorist suspects. The Optic Nerve program offers the possibility of using the images to detect targets, and the associated metadata to physically locate them.
But the personal privacy intrusion is equally clear. The program follows a standard GCHQ and NSA methodology: collect and store everything to allow later interrogation. The problem with this approach is that it inevitably includes the private information of innocent people -- and in this instance, many intimate images.
"Unfortunately," states one GCHQ document, "there are issues with undesirable images within the data. It would appear that a surprising number of people use webcam conversations to show intimate parts of their body to the other person... A survey was conducted, taking a single image from each of 323 user ids. 23 (7.1%) of those images contained undesirable nudity."
Neither GCHQ nor the NSA responded to the Guardian's requests with anything new. GCHQ repeated its standard statement that "our activities are authorised, necessary and proportionate;" while the NSA spokeswoman Vanee Vines said, "As we've said before, the National Security Agency does not ask its foreign partners to undertake any intelligence activity that the US government would be legally prohibited from undertaking itself."
Yahoo, however, responded angrily. A spokeswoman told the Guardian, "This report, if true, represents a whole new level of violation of our users' privacy that is completely unacceptable."
It's a viewpoint supported by both Big Brother Watch in the UK, and the ACLU in the US. "Secretly intercepting and taking photographs from millions of people's webcam chats is as creepy as it gets," blogged BBW today. "We have CCTV on our streets and now we have GCHQ in our homes."
"This is a truly shocking revelation that underscores the importance of the debate on privacy now taking place and the reforms being considered," said Alex Abdo, staff attorney with the American Civil Liberties Union's National Security Project. "In a world in which there is no technological barrier to pervasive surveillance, the scope of the government's surveillance activities must be decided by the public, not secretive spy agencies interpreting secret legal authorities."