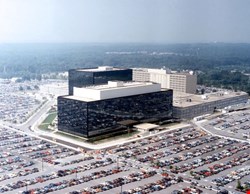 "Among the thousands of documents removed from the NSA by the former employee [Edward Snowden]," reported Le Monde yesterday, "is a graph that describes the extent of telephone surveillance carried out in France. It was found that over a period of thirty days, from 10 December 2012 to 8 January 2013, 70.3 million recordings of telephone French data were performed by the NSA."
Thus began a diplomatic row between France and the US. France's foreign ministry summoned US ambassador Charles Rivkin. Foreign Minister Laurent Fabius called the claims "totally unacceptable." Prime minister Jean-Marc Ayrault said he was "deeply shocked." And presidents Obama and Hollande discussed the issue by telephone. A statement from Hollande's office said that he had expressed "deep disapproval of these practices, which are unacceptable between friends and allies because they infringe on the privacy of French citizens."
A subsequent statement from the White House claimed that some of the recent press disclosures had 'distorted our activities' while some 'raise legitimate questions for our friends and allies.' "The President made clear," it continued, "that the United States has begun to review the way that we gather intelligence, so that we properly balance the legitimate security concerns of our citizens and allies with the privacy concerns that all people share."
It is clear from Le Monde that targeted telephone numbers would automatically trigger recording, and that both metadata and content was recorded based on the recognition of keywords. The metadata was stored, but it is not clear whether or for how long any of the content was kept.
The initial response from the White House had been to brush off the allegations, merely saying that all nations engage in espionage. When Le Monde asked for a comment, the US authorities would only refer to the June 8 statement from the US Director of National Intelligence. This stated, "The Government cannot target anyone... unless there is an appropriate, and documented, foreign intelligence purpose for the acquisition (such as for the prevention of terrorism, hostile cyber activities, or nuclear proliferation)."
But of particular concern to Le Monde, and in apparent contradiction to such US assertions that surveillance is purely for national security purposes, the newspaper adds that in addition to suspected terrorist links, the NSA "targeted individuals for their mere membership in the world of business, politics or the French administration."
Le Monde also notes that France is not quite the most targeted country in Europe. "In Europe, only Germany and the United Kingdom are beyond France in terms of number of interceptions. But for the British, this was done with the consent of their government..."