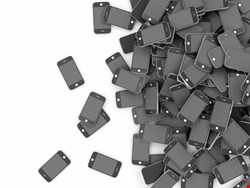 A new report from Juniper Research postulates that for businesses adopting BYOD, there is a need to consider mobile devices as just another endpoint – while devising measures to mitigate the challenges and the risks of managing a multi-platform environment. The new report, 'Mobile Security: BYOD, mCommerce, Consumer & Enterprise 2013-2018', found that while BYOD has the potential to benefit organizations in terms of enhanced employee satisfaction and productivity, the cybersecurity threat from unprotected employee mobile devices is of significant importance.
That's because today's workforce is increasingly mobile – and place-shifted. Workers sign on from home, work on the weekends and use their mobile devices to stay in touch with the office whenever they're not physically there. Enterprises are also moving to the cloud, meaning that having anywhere, anytime access to mission-critical applications via mobile and portable devices is increasingly common.
This reality has meant that the old-school concept of the "prosumer" – an individual who blends their work and home life almost seamlessly – has morphed into the consumerization of IT on a device level, amid rapid adoption of smartphones and tablets. Employees, whether authorized to or not, are using these personal devices to perform a variety of work functions, from tapping the corporate network and editing documents on the go, to using hosted apps and checking e-mail.
Thus, Juniper noted that a single policy or measure may not be sufficient while devising future BYOD strategies. Further, growth in the mobile security market is being driven by the enterprise segment, particularly in the areas of BYOD and mobile device management. Eyeing the productivity gains, some companies are moving quickly to implement policies, support and management, and security to support workers using their personal phones and tablets within the corporate infrastructure.
In the consumer segment, Juniper forecasts a steady growth in revenue for security software, approaching 40% of the global mobile security sales revenue by the end of 2018. This will be driven primarily by increased consumer awareness of available security solutions and – critically – of the risks posed by fraud and malware to data stored on and accessible via their smartphones and tablets.
Western Europe currently represents the largest revenue hub for the mobile security vendors, but more than half of all mobile devices in the US will have security apps installed by the end of 2018, the firm noted.