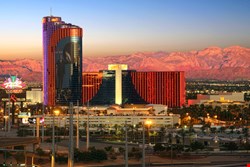 In a post titled "Feds, We Need Some Time Apart", conference founder Jeff Moss noted on the event website that that a "time out" is in order in the wake of the uncovering of PRISM, the widespread computer surveillance program that has been operated by the US National Security Agency since 2007.
The gathering brings together the security and hacking communities to debate security topics and swap coding tips. Government actors have always been a part of this, as Moss noted.
"For over two decades Def Con has been an open nexus of hacker culture, a place where seasoned pros, hackers, academics and feds can meet, share ideas and party on neutral territory. Our community operates in the spirit of openness, verified trust and mutual respect," he wrote.
This "nexus" presumably doesn't include the underground criminal community, notoriously populated with identity and financial thieves, drug dealers, state-sponsored spies and the like, who may be interested in hearing more about the NSA's tactics. But for everyone else, Moss intimates, the Feds have apparently crossed a line that many in the hacking community will take time to get over.
"When it comes to sharing and socializing with feds, recent revelations have made many in the community uncomfortable about this relationship," he concluded. "Therefore, I think it would be best for everyone involved if the feds call a 'time-out' and not attend Def Con this year. This will give everybody time to think about how we got here, and what comes next."
Moss told Reuters that the conference wouldn't be checking IDs and preventing anyone government-related from attending. But they may feel the evil eye on their back. "A little bit of time and distance can be a healthy thing, especially when emotions are running high," Moss told the news service.