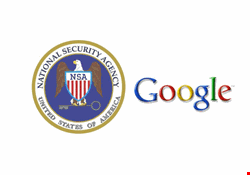 The alleged cybersecurity alliance between Google and the NSA was revealed in an article from today's Washington Post. According to the Post, "the National Security Agency would help Google analyze a major corporate espionage attack that the firm said originated in China." The Post did not directly attribute its sources, who relayed their information on the condition of anonymity.
The Post would go on to cite sources close to the negotiations who claim that the partnership would include sharing of information without violating Google users' privacy. According to the article, "the deal does not mean the NSA will be viewing users' searches or e-mail accounts or that Google will be sharing proprietary data".
A Google spokesperson told Infosecurity that they had no further comment on the matter at this time and referred us to remarks on the company's blog that were posted January 12 in response to Google's allegations regarding the China hacking incident.
"At the time [of the alleged hack], we said we are working with the relevant US authorities", the spokesperson said. "But we don't have any comment beyond that."
The NSA would not confirm the accuracy of the Post report, or whether this cybersecurity partnership was in the works. "NSA is not able to comment on specific relationships we may or may not have with U.S. companies", an NSA spokesperson told Infosecurity. "We can say as a general matter, however, that as part of its longstanding Information Assurance (IA) Mission, NSA works with a broad range of commercial partners and research associates to ensure the availability of secure tailored solutions for DoD and national security systems customers today and cutting-edge technologies that will secure the information systems of tomorrow."
On a related note, earlier this week Dennis C. Blair, Director of National Intelligence, provided both the House and Senate Select Committees on Intelligence with an annual threat assessment from the US intelligence community. In his opening remarks to the Senate committee, Blair underscored the increasing threat that businesses face from cyberattacks, a trend that is unlikely to abate going forward. "The recent intrusions reported by Google are yet another wake-up call to those who have not taken this problem seriously", he warned. "Cyber crime is on the rise."