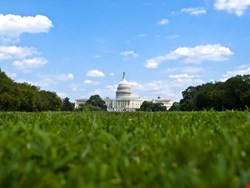 The group of senators, led by John McCain (R-Ariz.) and Kay Bailey Hutchison (R-Texas), are urging the Senate Majority Leader Harry Reid (D-Nev.) to slow down consideration of the Cybersecurity Act (S. 2105) because it "does not satisfy our substantive concerns, nor does it satisfy our process concerns."
The bill was introduced this week and has bipartisan sponsorship: Sens. Joseph Lieberman (I-Conn.), Susan Collins (R-Me.), Jay Rockefeller (D-W.V.), and Dianne Feinstein (D-Calif.). Lieberman is chairman of the Homeland Security and Government Affairs Committee, Collins is the lead Republican on that committee, Rockefeller is chairman of the Commerce Committee, and Feinstein is head of the Select Committee on Intelligence.
The bill would, among other things, authorize the Department of Homeland Security (DHS) to enforce cybersecurity standards on privately owned critical infrastructure companies and overhaul the Federal Information Security Management Act (FISMA).
The compromise bill appears to be an effort to speed the Senate's passage of comprehensive cybesecurity legislation, which Reid has said he wants to pass in the first working period of the 2012 legislative session.
But the Republican senators want to slow down the process because of jurisdictional issues as well as substantive concerns. Last year, McCain called for the setting up of a bipartisan select committee, bringing together senators from a number of committees, to work on cybersecurity legislation.
"Instead the majority leader established bipartisan working groups to consider substantive aspects of cybersecurity legislation across committee responsibilities. Unfortunately, the working groups met infrequently – if at all – and did not function constructively", the Republican senators wrote in a letter to Reid.
The senators are calling on the Senate leadership to allow the holding of committee hearings on the Cybersecurity Act, a process that could take months, given that at least seven committees have claimed jurisdiction over the cybersecurity issue.