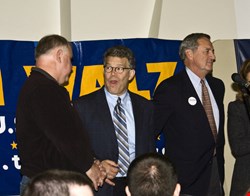 Franken – chairman of the Senate subcommittee on privacy, technology and the law – called for an explanation after security researcher Trevor Eckhart claimed Carrier IQ software could log everything people did on their mobile phones.
Carrier IQ insists its software is designed to diagnose network faults, not spy on users.
But the company tried to silence Eckhart with the threat of legal action after he posted a video on YouTube that he said showed Carrier IQ could record a user's location, keystrokes and the websites they visited, according to the BBC.
Andrew Coward, head of marketing at Carrier IQ, said in an interview with the All Things D website, that Eckhart's video demonstrates how much information is available on a handset: "What it doesn't show is that all information is processed, stored, or forwarded out of the device."
According to Coward, Carrier IQ captures only data specified by carriers according to their privacy standards and agreements with users.
Senator Franken sent a letter to Carrier IQ, asking the company to clarify what types of data its software captures and what is done with that information. Carrier IQ has until 14 December to respond.
Carrier IQ software has been found on Samsung handsets and some Android phones from HTC, but both handset makers said it was installed at the request of operators.
The software has also been found on the iPhone 4, but Apple has issued a statement saying it stopped using the software on the iPhone 4S and other devices running its iOS 5 system software.
US operators known to be using it include AT&T and Sprint, but UK operators told The Guardian they did not use the software.
Nokia and RIM have issued statements saying they do not let the software ship on their products. RIM said it does not pre-install the Carrier IQ app on Blackberry smartphones or authorize its carrier partners to install the Carrier IQ app before sales or distribution.
This story was first published by Computer Weekly