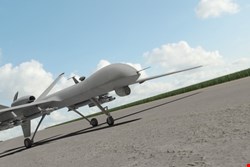 "SkyJack is a drone engineered to autonomously seek out, hack and wirelessly take over other drones within Wi-Fi distance, creating an army of zombie drones under your control," Kamkar rather straightforwardly explained, in a blog.
Using a fairly simple kit consisting of a Parrot AR.Drone 2, a Raspberry Pi, a USB battery, an Alfa AWUS036H wireless transmitter, aircrack-ng, node-ar-drone, node.js and his own SkyJack software, Kamkar has developed a drone that sniffs out other drones as it flies around. Once a target is acquired, the SkyJack forcefully disconnects the wireless connection of the true owner of the victim drone, then authenticates with it under a false identity. From there a hacker has gained control and can feed the drone commands at will, rerouting the flight path, destination and so on.
The Parrot AR.Drones can be controlled from an iPhone, iPad or Android. But while the hardware aspect of the attack vector may appeal to the RC-loving set, SkyJack also works when grounded. Perpetrators can simply install the SkyJack software on their machines and "jack drones straight out of the sky," as Kamkar put it.
SkyJack is primarily a perl application that runs off of a Linux machine, and runs aircrack-ng in order to get its Wi-Fi card into monitor mode. It detects all wireless networks and clients around, deactivates any wireless connections from MAC addresses owned by the Parrot company. Other types of drones aren't susceptible to SkyJack – yet – but the technology does point out potential flaws in using small consumer-grade flyables for important transactions, like delivering Kindles or other expensive electronics.
"Amazon announced they're planning to use unmanned drones to deliver some packages to customers within five years," Kamkar said. "Cool! How fun would it be to take over drones, carrying Amazon packages…or take over any other drones, and make them my little zombie drones. Awesome."
Kamkar is perhaps best known for releasing the Samy worm in 2005 into MySpace. It was the first self-propagating cross-site scripting worm and carried a payload that would display the string "but most of all, Samy is my hero" on a victim's profile. It also caused the victim to unknowingly send a friend request to Kamkar. When a user viewed that profile, they would have the payload planted on their page. Within just 20 hours of its October 4, 2005, release, more than one million users had run the payload, making Samy the fastest spreading virus of all time.
In 2006, Kamkar pled guilty to a felony charge of computer hacking in Los Angeles Superior Court, and was prohibited from using a computer for three years. Since then, Kamkar has turned largely white hat as an independent computer security consultant and privacy researcher.