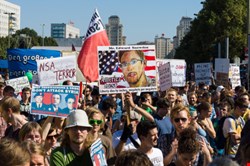 Now the Green party is pressing for that evidence to be heard ahead of the full parliamentary debate (11 March) and vote (12 March) on the LIBE report.
Green spokesperson and member of the LIBE committee Jan Philipp Albrecht (he is also the EP rapporteur for the General Data Protection Regulation) has been campaigning to both hear Snowden's testimony and grant him European protection since the inquiry began; but was disappointed when the latter recommendation was omitted from the final report.
At the time he released a statement blaming centre-right and socialist MEPs, saying "Edward Snowden's brave revelations have provided the basis for this inquiry and failing to recognise this vital contribution by calling for his protection is a display of cowardice, which is borne out of a desire not to offend the US. This is a cop-out."
Now, however, at least the former has been confirmed. This week the LIBE committee finally voted to accept testimony from Snowden (who has already agreed to provide it). It will take the form of a written response to MEPs' questions. Albrecht has called it "a significant and positive development," and "a source of relief that ideologically-blinded centre-right and conservative MEPs were faced down."
He is urging that it happens before the 12 March parliamentary vote on the LIBE report. This report calls for the immediate suspension for the EU/US safe harbor agreement, acceleration of the General Data Protection Regulation proposals, reassessment of approval of Canada and New Zealand (both members of the Five Eyes spying alliance) as safe to receive European data, and an autonomous EU IT capability. The last has been taken up by Germany and France who are discussing proposals for a 'European internet' that can be better protected from external intelligence agencies.
The report has been criticized by politicians as disproportionate and unrealistic with unachievable timeframes; and will struggle to be accepted by the wider family of center-right and conservative MEPs. Nevertheless, testimony from Snowden would be an important inclusion within the debate. On the back of this success, Albrecht announced, "This week, the Greens will re-table an amendment to the final report of the inquiry, calling on EU member states to grant protection to Edward Snowden and we are calling for cross-political support for this. This would be an important and consequent step to recognising his role as a whistleblower and a clear statement against mass surveillance."