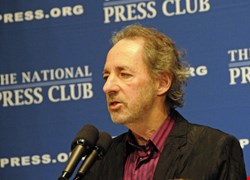 The Two-Way, NPR.org and some of NPR's Twitter accounts were hacked late Monday by a group of hackers who support Syrian President Bashar Assad's regime, and are believed to have at least the tacit support of the Syrian government.
"Late Monday evening, several stories on the NPR website were defaced with headlines and text that said 'Syrian Electronic Army Was Here.' Some of these stories were distributed to and appeared on NPR Member Station websites," NPR reported, by way of the Two-Way blog. "We have made the necessary corrections to those stories on NPR.org and are continuing to work with our member stations. Similar statements were posted on several NPR Twitter accounts. Those Twitter accounts have been addressed. We are closely monitoring the situation."
For its part, the SEA took responsibility for the hack, but is being cagey as to why. It took to Twitter itself to say, "We will not say why we attacked @NPR ... They know the reason and that enough #SEA #Syria."
Other messages followed, including, "5 Twitter accounts for @NPR in addition to their official website was hacked by #SEA... We hope that NPR got our message #Syria." And, NPR noted, one message said, "you can ask @deborahamos"—offering a clue as to the reasons behind the attack.
Praising their "detailed reportage, often from dangerous locations," the judges of the 72nd Annual Peabody Awards singled out NPR's Kelly McEvers and Deborah Amos last month for their coverage of the conflict in Syria.
"In the course of her reports [she] has told of the hard toll the fighting there is taking on the Syrian people," NPR said. "Several of their reports took them into rebel-held territory."
The SEA also offered an oblique threat – NPR said that it posted a screen grab showing an email that Mark Stencel, NPR's managing editor for digital news, sent to NPR staff. "We are aware that access to our publishing system appears to have been compromised and several stories were hacked," he told employees. "We are taking steps to fix the stories that have been vandalized." SEA's ability to grab a screenshot indicates that it still had access to NPR's systems at the time of the email, which was after midnight early Tuesday morning.
NPR is not the first news organization to be targeted by the SEA. In late March, three BBC Twitter accounts were briefly taken over by the group: @bbcweather, @BBCarabicOnline, and @bbcradioulster. Last August, a pro-Syrian government hacking group (likely the SEA) compromised Reuters' blog and posted false news stories; and then hijacked a Reuters Twitter account, leaving 22 false messages.

But the history extends even further: "Over the past few months, their primary means of attack has been to overload the social networking profiles of government institutions and Western media outlets, flooding the Facebook pages of ABC News, the Telegraph, Oprah Winfrey, and the US Department of Treasury with pro-Assad messages," reported The Atlantic back in 2011 shortly after it too had been attacked.