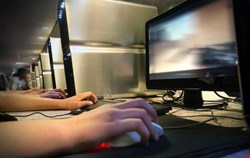 Trymedia, a subsidiary of RealNetworks, told the New Hampshire Attorney General's Office that it believes hackers were able to obtain credit card numbers, expiration dates, security codes, and postal and email addresses to optional users accounts for transactions between Nov. 4 and Dec. 2, 2011.
Trymedia said it would notify the 12,456 customers affected, including 96 New Hampshire residents, by postal mail about the potential breach and offer to provide a 12-month subscription to a credit monitoring and identity theft protection product.
"Immediately upon learning of the intrusion, we took the affected systems offline and took steps to address the vulnerability that led to this incident", Trymedia said in a draft letter to customers provided to the Attorney General's Office.
"We engaged external experts to investigate the incident and we have taken additional steps to enhance our information security controls. We notified all major credit card brands of the incident. We also have notified law enforcement authorities and are cooperating with their efforts to identify those responsible for the intrusion", the company added.