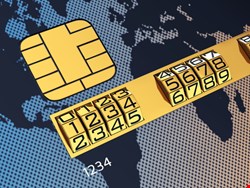 Over a quarter of Brits have experienced card fraud in the past five years, making the UK the worst offender in Europe, while the US sits fourth globally with over 40% of consumers affected, according to a study by payments firm ACI Worldwide.
The firm commissioned research firm Aite Group to interview over 6,000 consumers in 20 countries worldwide to compile the
2014 Global Fraud Report
.
It found that a quarter of respondents globally had been a victim of fraud on their credit, debit or prepaid cards over the past five years, with a little over 10% having been hit multiple times.
The UAE was the worst affected country, with 44% having experienced fraud, followed by China (42%) and the US and India (41%).
The UK showed a notable drop from 34% in 2012 to 28% this year, however it remained the most fraud-affected in Europe despite being one of the first countries to introduce chip and PIN, or 'EMV', cards nearly a decade ago.
This could be because UK consumers still haven't completely given up on so-called "risky behavior". Some 16% said they leave their smartphone unlocked when not using it, 15% throw bank statements and other documents in the bin and 9% shop online without security software on their PC.
That said, these figures in general were similar to or lower than those of the UK's European neighbours.
UK consumers are also keenly aware of the dangers of card fraud. Some 41% said they were "very concerned" about identify theft, with the same number very concerned about a data breach leading to compromised account details.
Andy Morris, solutions lead at ACI Worldwide, argued that chip and PIN had driven fraudsters into other areas.
"It's important we also take into account the context of these results. In recent years there has been a rise of card not present fraud, where criminals can bypass chip and PIN online by using card details, expiry dates and the security code to defraud victims," he told Infosecurity.
"The good news is that more defensive methods have been put in place and we have begun to see criminals return to their low-tech tactics of the past."
While there hasn't been a major Target-style data breach reported in the UK so far this year, data protection watchdog the Information Commissioner's Office (ICO) has certainly been kept busy by smaller incidents.
However, the costs almost doubled, to £600,000-£1.15m.
It found that although fraud losses on UK cards totalled £450.4 million in 2013, a 16 per cent rise on the 2012 figure of £388.3 million, they were still down 26% since the peak year of 2008.
What's more, spending on UK cards has risen significantly over that time, so that fraud losses as a proportion of the value of purchases on cards has increased only slightly – from 7.1p for every £100 spent in 2012 to 7.4p in 2013.