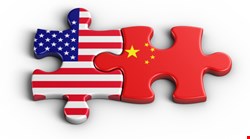 "The agency," reported NYT Saturday, "pried its way into the servers in Huawei's sealed headquarters in Shenzhen, China's industrial heart, according to N.S.A. documents provided by the former contractor Edward J. Snowden. It obtained information about the workings of the giant routers and complex digital switches that Huawei boasts connect a third of the world's population, and monitored communications of the company's top executives."
Spiegel reported, "the NSA made a special effort to target Huawei. With 150,000 employees and €28 billion ($38.6 billion) in annual revenues, the company is the world's second largest network equipment supplier. At the beginning of 2009, the NSA began an extensive operation, referred to internally as "Shotgiant," against the company, which is considered a major competitor to US-based Cisco. The company produces smartphones and tablets, but also mobile phone infrastructure, WLAN routers and fiber optic cable -- the kind of technology that is decisive in the NSA's battle for data supremacy."
The situation is slightly different in the UK where BT has an existing contract with Huawei. For security purposes, Huawei provides its secret source code where it can be inspected for backdoors, albeit by engineers technically employed by Huawei.
The timing of the NSA revelations could not be more pertinent as President Obama and President Xi Jinping met at the Nuclear Security conference in Holland yesterday. At the diplomatic level, relations remained positive, with Xi Jinping even jokingly delivering a message from the first lady currently visiting China ("She asked me to formally convey to you her best regards," he said).
However, it is also known that China has raised the NSA issue. "President Xi did raise that recent report in the context of their discussions on cyber-security," Ben Rhodes, Obama's deputy national security adviser, told a press briefing. Obama 'made clear' to Xi that "the United States does not engage in espionage to gain commercial advantage," Rhodes said.
Huawei, however, is clearly becoming increasingly upset by what it sees as US hypocrisy. Jack Goldsmith, the Henry L. Shattuck Professor at Harvard Law School, commented in the Lawfare blog, "The Huawei revelations are devastating rebuttals to hypocritical U.S. complaints about Chinese penetration of U.S. networks, and also make USG protestations about not stealing intellectual property to help U.S. firms' competitiveness seem like the self-serving hairsplitting that it is. (I have elaborated on these points many times and will not repeat them here.) "The irony is that exactly what they are doing to us is what they have always charged that the Chinese are doing through us," says a Huawei Executive."