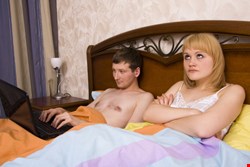 More than 1000 people were stopped in the streets of London and asked what they do in bed – as far as work is concerned. A surprising number admitted to an eye-opening amount of man-hours (and lady-hours) of work-related behavior.
One man commented, "I check and send emails before I go to sleep and when I wake up in the morning – I try not to spend too much time on it, but when you work with people all around the world, it is difficult to avoid." Of those people who admitted to working in bed, 30% said the do so for more than an hour every day.
The problem for security administrators is that security is still not universal on mobile devices. "Of people who work from a mobile device, more than 1 in 4 admitted they don't use strong security – so they are leaving themselves vulnerable to security breaches", commented Claire Sellick, event director for Infosecurity Europe. End-point security remains a pressing need; even in bed.
But the detail in the responses will add fuel to the world's caricature of the Englishman. A full 40% of women admit to working in bed for 60 minutes each day, while 18% of men admit to the same. A further 17% of women believe their partners work for 60 minutes (pretty close); but only 15% of men believe their partners work for 60 minutes.
Comments from the Slack Space...
It is proven: the Englishman just doesn't know what his partner is doing in bed.