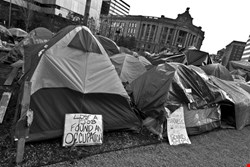 A man claiming to be an Anonymous spokesman told the Boston Herald newspaper that the group took control of the BPDNews community policing website and would likely strike again in retaliation for the police evicting the Occupy Boston protesters from Dewey Square in December.
Boston police spokeswoman Elaine Driscoll told the newspaper that shutting down the BPDNews website could cripple one of the city's crime-fighting tools. "For more than six years now, BPDNews has been a valuable resource for community members", Driscoll said.
"It is unfortunate that these individuals would deprive the community of this important information outlet. We appreciate everyone's continued patience and again apologize for the convenience", she added.
In the meantime, the Boston Police Department4 has diverted the BPDNews web traffic to the department's Facebook page, which says, "We are very sorry that BPDNews.com is still down. The site's host, WordPress, has requested additional time to work on the issue so that they can do everything possible to prevent a future occurance [sic]."