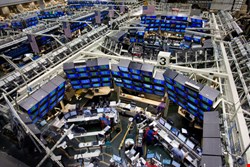 The DDoS attacks intermittently took offline the websites of Nasdaq and the BATS Stock Exchanges earlier this week, although none of the exchanges' trading systems were affected, according to a Reuters report. The Chicago Board Options Exchange website was also taken offline, an exchange spokesperson told Threatpost.
In a Pastebin post, Anonymous affiliate L0NGwave99 Group said they planned to launch DDoS attacks against these exchanges, as well as the Miami Stock Exchange, and that the exchanges "may need maintenance" as a result. The attacks were in support of Anonymous's 99% movement, which last year vowed to launch attacks against financial institutions in a Robin Hood-like effort to steal from the rich and give to the "99%" of the people who are not.
"The 99% movement of the people has started in the US and many other countries, targeting the last enemy of the humankind, i.e. Capitalism of the Liberal Democracy. Now the people all around the Homeland have profoundly realized that Capitalism is dangerous, and thus have risen against it", L0NGwave99 Group wrote in the post.
Neil Roiter, director of research at Corero Network Security, observed that financial institutions, such as banks and stock exchanges, are highly favored targets by ideologically motivated attackers, such as Anonymous. The DDoS attacks this week on the US exchanges, as well as on the Malaysian stock exchange and Brazilian banks, underscore the "need for financial institutions to remain vigilant and strengthen their security measures before they become a victim, as anyone can be a target at any time, for any reason", he added.