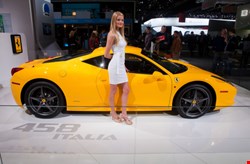 A global cybercrime gang has offered hackers-for-hire a Porsche or Ferrari if they win an "employee of the month" competition, highlighting the increasingly lucrative rewards on offer for those who decide to make a living from the darknet.
A cybercrime boss appeared on a professionally shot video in a car showroom "with a couple of blondes" offering up the luxury prize for the associate who makes the most from an online attack campaign, according to
The Independent
.
Head of the European Cybercrime Centre,
Troels Oerting
told the paper the video is currently under investigation. He said the scheme shows just how attractive such online operations can be, especially given the relatively low risk of being caught, with gangs recruiting talented programmers from universities.
He added that cybercriminals typically base themselves in jurisdictions where Europol has struggled to penetrate, with 85% of online crime currently coming from Russian-speaking countries.
"They are very, very good at locating themselves in jurisdictions that are difficult for us. If we can pursue them to arrest, we will have to prosecute by handing over the case," Oerting told The Indy.
"Even if they will do it, it's a very cumbersome and slow process. You can wait until they leave the country, then get them. That's a comparatively small volume. The police ability stops at the border."
He added that Africa is also increasingly being used as a base to launch attacks from, as its broadband infrastructure improves.
General manager of
RedSeal Networks
, Duncan Fisken, argued that as the rewards for cybercrime increase, so should the "price of getting caught".
"Prison sentences and financial penalties need to be much tougher; gone should be the days of a slap on the wrist and token fine or perhaps a short or suspended sentence," he told Infosecurity.
"It's time to up the ante and impose jail terms of years and punitive fines. Only when the price of getting caught outweighs the potential reward, and crucially that justice is seen to be done, will there be a chance that would-be cyber attackers may think twice."
Lancope
CTO TK Keanini told
Infosecurity
that the luxury automotive prize on offer could even by limiting, given that "some of the people innovating in this area may not be of the driving age".
"On average, a Ferrari costs $200,000; but there are people on the dark markets paying well into $250,000 for zero day exploits on specific platforms. When you consider how much money they can make monetizing this type of capability, it is cheap," he added.
Martin Sutherland, managing director of consultancy BAE Systems Applied Intelligence, argued that the news further demonstrates the extent to which the online world is "fast becoming the new frontier for organized crime".
"The conclusion is becoming increasingly clear – we have now entered the age of digital criminality; a modern cybercrime combination in which well organized and well-funded criminal groups are using sophisticated cyber techniques to carry out theft and fraud on an unprecedented scale," he told Infosecurity by email.
"Responding to this challenge is going to require us to work together more closely than ever before - sharing threat intelligence, and using the most advanced fraud prevention techniques to stop these attacks before they do real harm to businesses, consumers and the economy as a whole.
"