Cybersecurity industry veteran Eugene Kaspersky has provoked a strong reaction from leading figures in the sector following a statement he made on the ongoing Russian invasion of Ukraine.
Kaspersky, CEO of the Russian-headquartered IT security vendor of the same name, broke his silence on the conflict earlier today, tweeting: "We welcome the start of negotiations to resolve the current situation in Ukraine and hope that they will lead to a cessation of hostilities and a compromise. We believe that peaceful dialogue is the only possible instrument for resolving conflicts. War isn't good for anyone."
This is a reference to peace talks that took place between Ukrainian and Russian officials yesterday on the border with Belarus, and a fresh agreement for the sides to meet again in the coming days.
Kaspersky followed up his statement with another tweet: "Like the rest of the world, we are in shock regarding the recent events. The main thing we can do in this situation is provide uninterrupted functioning of our products and services globally."
His description of the conflict as a "situation" and apparent attempt to advertise his firm led to a number of furious responses from leading members of the infosec community.
Rik Ferguson, VP of security research at Trend Micro (@rik_ferguson) wrote: "Better to have stayed silent than to have called an invasion a "situation" that requires a "compromise" or to assert that it 'isn't good for anyone'. Russians are not being murdered."
Brian Honan, CEO, BH Consulting, also spoke out about Kaspersky's neutral choice of language and refusal to condemn the actions of the Kremlin. "Eugene there is no 'current situation' in Ukraine. It is an invasion leading to a war in which innocents being killed by Russian soldiers. Russia needs to stop its war and leave Ukraine to the Ukrainian people #StandWithUkraine️" he tweeted.
A similar sentiment was expressed by Regina Bluman, security analyst at Algolia (@RegGBlinker): "This is not the statement you think this is. There's no room for compromise in an invasion."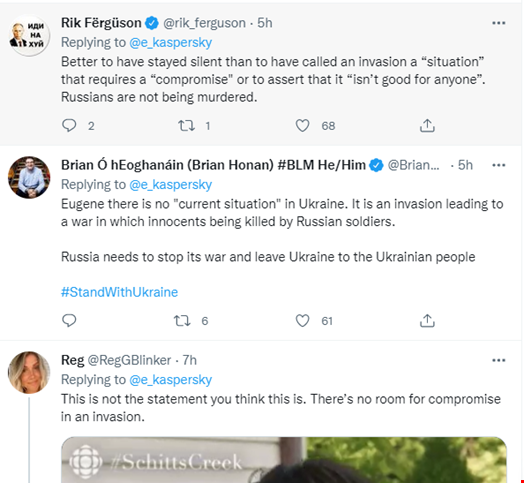 Eugene Kaspersky's comments follow a statement issued by the company to Motherboard on Monday, which confirmed its neutral status. This read: "As a technology and cybersecurity service provider the company is not in a position to comment or speculate on geopolitical developments outside of its area of expertise."
Following Kaspersky's tweet, the hashtag #BoycottKaspersky appeared on the social media site. Using the hashtag, one user wrote: "This is an awful statement by #Kaspersky that reduces an invasion of a sovereign nation to a "situation" and asks for "compromise" instead of full withdrawal by Russia Please ditch Kaspersky today."