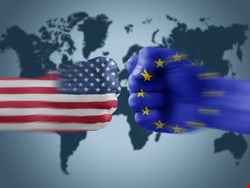 The meeting is being hailed a success, "constructive and productive." It included discussion on a 'broad array of issues critical to the EU and US.' For example, addressing the problem of sexual abuse of children online (see UK prime minister David Cameron's ultimatum to the search giants), and the threat posed by foreign fighters going to third parties such as Syria (see, perhaps, GCHQ's hack of Belgacom).
But the meeting also addressed data protection, says a joint statement, "and issues related to alleged activities of U.S. intelligence agencies. We together recognize that this has led to regrettable tensions in the transatlantic relationship which we seek to lessen. In order to protect all our citizens, it is of the utmost importance to address these issues by restoring trust and reinforcing our cooperation on justice and home affairs issues."
Although the statement is upbeat, Der Spiegel (one of the three main newspapers publishing the Snowden leaks) was doubtful that much could actually be achieved. Ahead of the meeting it warned, "it is also unlikely that much will change right now. When Republican Congressman Jim Sensenbrenner recently discussed his plans in Brussels for more closely monitoring the NSA, the privacy of foreigners didn't play a role. He said he was concerned about improved observation of the NSA's work on US soil. And much-discussed legislation by Senate Intelligence Committee chair Diane Feinstein to rein in NSA spying is also unlikely to deliver much progress. Her bill even makes it possible for foreigners to be spied on for up to 72 hours without requiring any kind of court approval."
These 'foreigners' include the EU citizens that Reding is at least publicly determined to protect. It is noticeable that no single concrete development has come from Monday's meeting, and the language is all about continuing negotiations. "We are therefore, as a matter of urgency, committed to advancing rapidly in the negotiations on a meaningful and comprehensive data protection umbrella agreement in the field of law enforcement," is typical.
In one area alone is there a specific statement: "We are committed to working to resolve the remaining issues raised by both sides, including judicial redress (a critical issue for the EU). Our aim is to complete the negotiations on the agreement ahead of summer 2014." Currently, European citizens have no judicial recourse in the US if they feel their data protection rights have been violated by US agencies. In Europe, national citizens can appeal to the European court if they feel national agencies have exceeded their authority. Providing 'judicial redress' for US overreach against EU citizens is the one specified sticking point for the EU negotiators.
The reality is they have little choice. An emailed statement from Jan Philipp Albrecht of the European Parliament's civil liberties, justice and home affairs committee (LIBE), is upbeat on the issue. "EU justice commissioner Viviane Reding has achieved important progress in the negotiations with US attorney general Eric Holder: a commitment to judicial redress for EU citizens when their personal data is transferred to the United States." (In reality, the only commitment in the joint EU-US statement is to work towards resolving the issue.) But a covering note from Albrecht's office explains the importance. "Judicial redress is a precondition for the European Parliament. Only when this is confirmed, the European Parliament will accept an agreement."
Since an agreement between the EU and the US made by the European executive (the EC) will need to be confirmed by the legislature (the European Parliament), ultimate rapprochement between the EU and US may come down to this one sticking point.