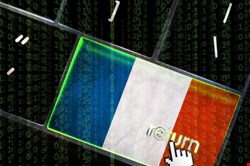 State-sponsored French hackers are probably the most "capable" of stealing the business secrets of American companies, after China, according to former CIA director and defense secretary, Robert Gates.
In a
video interview
with CNN's Fareed Zakaria sponsored by the Council on Foreign Relations, Gates made the surprising revelation that in France, "government and business have operated hand-in-hand since the time of Louis XIV".
"What we accuse China of doing – stealing American companies' secrets and technology – is not new nor is it done only by the Chinese," said Gates. "There are probably a dozen or 15 countries that steal our technology in this way. In terms of the most capable next to the Chinese are probably the French, and they've been doing it a long time."
Gates added that French intelligence services routinely broke into the hotel rooms of American executives during business trips to the country and downloaded information from their laptops "if they felt the laptops had technological information or competitive information that would be useful to French companies".
"The difference is – and it's hard for people to believe this but you have to take my workd for it - we nearly are alone in the world in not using our intelligence services for the competitive advantage of our businesses," said Gates.
The remarks are particularly interesting as they go to the heart of America's issue with China and the root cause of its unprecedented
indictment of five PLA officers
last Monday on charges of hacking US firms for economic gain.
The US frequently says it uses intelligence gleaned from the NSA and other agencies only for national security purposes, whereas it accuses China – and now France – of doing so to give their home-grown companies a competitive advantage in global markets.
The remarks call to mind former UK home secretary David Blunkett's
remarks
at the launch of the non-profit International Cyber Security Protection Alliance (ICSPA).
He claimed that during tense negotiations over the Sangatte asylum centre in the early 2000s, then interior minister Nicolas Sarkozy alluded to the fact that the French were snooping on unencrypted emails sent from the Home Office to the British embassy in Paris.