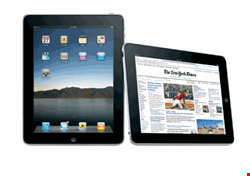 MuscleNerd, a member of the iPhone Dev team that was instrumental in jailbreaking the iPhone operating system, gained root access to the iPad tablet device, enabling the installation of unauthorized applications. The hack also made it possible for applications to multitask, which is not a feature enabled in the iPad out of the box. According to reports, the hacker used the same exploit that originally got the team into the iPhone operating system.

The exploit uses a browser vulnerability to gain access to the operating system, and although it has not been commercialized, it doesn't seem that it will be too long before new iPad users will be able to unlock their devices using a series of simple steps and a download.

The use of an existing exploit in an Apple operating system to crack a new iPad device will come as an embarrassment to the company, which rarely if ever comments on security flaws in its products. At the CanSecWest security conference in Vancouver last month, security researchers managed to hack both the iPhone and the Safari browser in what seems to be a regular occurrence at the show's Pwn2Own hacking contest.

As hackers tinkered with the iPad, Mac security specialist Intego launched a version of its antivirus software for the device, which continues to be largely untargeted by malicious software online. VirusBarrier X6 10.6.5, a free maintenance update to its anti-malware and network protection tool, is now iPad friendly, in addition to already being compatible with the iPod Touch and iPhone.

Other new features in the software include an option to submit URLs that are flagged as web threats or phishing sites. And a contextual menu in the log allows users to whitelist sites. Application software can also be marked as trusted, using a button in the behavioral analysis alert.
The latest version of the software is a free upgrade for all users of VirusBarrier X6, and is available for download via NetUpdate, Intego's automatic update tool.