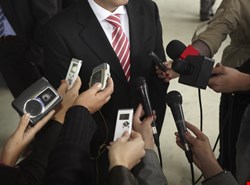 The legislation would reduce the number of people at each federal agency who could speak to reporters "on background" (on condition of anonymity) to only a handful, require notice to congressional intelligence committees of authorized disclosure of intelligence information, and permit the government to eliminate the pension of an intelligence officer who illegally discloses classified information, according to a report by the New York Times. The measure was attached to an intelligence authorization bill for fiscal year 2013.
The newspaper noted that investigations by FBI agents into disclosures of national security secrets to reporters, such as the disclosure of US role in the Stuxnet worm that attacked a Iranian nuclear facility, has prompted agencies to decline "routine interview requests."
In an editorial, the newspaper warned that the Senate measure contains a "constitutionally questionable provision that would prohibit a wide range of former government employees from providing paid commentary, including opinion articles, on 'matters concerning the classified intelligence activities of any element of the intelligence community or intelligence related to national security'."
The editorial concluded that the measure "would undermine democracy by denying Americans access to information essential to national debate on critical issues like the extent of government spying powers and the use of torture."