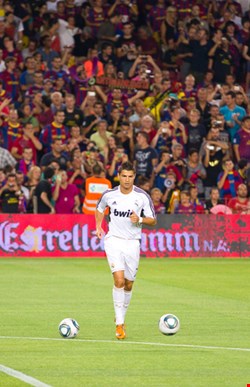 Where there's pop culture interest, there are fraudsters and criminals waiting to take advantage of it. The upcoming 2014 FIFA World Cup in Brazil is no exception – the world's biggest sporting event has already provided rich fodder for criminals looking to take advantage of fans, with Portugal's Cristiano Ronaldo claiming the dubious honor of being the world's riskiest football player to search for online.
In a study from McAfee, the Real Madrid star just barely edges out Argentina's Lionel Messi, Barcelona FC's superstar player. The two face off regularly in the "Clasico" matches between the two rival Spanish teams, so it would appear that their rivalry has now in a sense been brought online.
According to the research, fans run the greatest risk when visiting sites offering screensaver downloads and videos showcasing the extraordinary skills of the players. Searching for the latest Ronaldo content yields a fair chance of landing on a website that has tested positive for online threats, such as spyware, adware, spam, phishing, viruses and other malware.
"As is common with other cultural sensations, cybercriminals leverage consumer interest in the world's most popular sport to lure them to websites rigged with malware, malicious code capable of infecting a user's machine and stealing passwords and personal information," McAfee noted in announcing the study, which used McAfee SiteAdvisor site ratings to determine which sites are risky to search when coupled with footballer names, calculating an overall risk percentage.
Interestingly, the results, dubbed the "Red Card Club," don't necessarily dovetail with real-world rankings. Though England scores in the top half of the on-field rankings for the 2014 games, an English player actually doesn't enter the risk charts until No. 15.
Manchester United darling and English national team fixture Wayne Rooney comes in at that spot, while Manchester City's Joe Hart, Chelsea's Frank Lampard and Liverpool's Steven Gerrard are in safer territory at numbers 23 to 25, respectively. English footballers therefore seem not to appeal to cybercriminals as much as Spanish players, especially.
"Consider the McAfee Red Card Club as our effort to warn consumers against allowing passion to trump digital hygiene," said Raj Samani, EMEA CTO for McAfee, in a statement. "Cybercriminals can't resist taking advantage of 'fever-pitch' excitement around this summer's epic matchups in Brazil. The danger is that this anticipation could lead fans to download content from pages they shouldn't to fulfill their football experience."