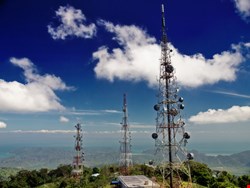 When Edward Snowden revealed details on Tempora in June, he told the Guardian, "It's not just a US problem. The UK has a huge dog in this fight. They [GCHQ] are worse than the US." Tempora involves tapping more than 200 undersea fiber cables. It was clear from the beginning that this could not be done without the co-operation of the telcos – but who those telcos are remained unknown.
On 2 August, the German newspaper Suddeutsche Zeitung published details from a PowerPoint presentation that demonstrates, it says, that GCHQ has "lost all sense of proportion." 'Mastering the Internet' (a codename for one of the GCHQ projects) "is not an empty slogan," says the newspaper: "they dominate the Internet."
This conclusion is drawn from a GCHQ powerpoint presentation produced in 2009. The Guardian explained that it "identified for the first time which telecoms companies are working with GCHQ's 'special source' team. It gives top secret codenames for each firm, with BT ('Remedy'), Verizon Business ('Dacron'), and Vodafone Cable ('Gerontic'). The other firms include Global Crossing ('Pinnage'), Level 3 ('Little'), Viatel ('Vitreous') and Interoute ('Streetcar')."
Now that it knows the companies involved, Privacy International (PI) has written to each (the pre-action letter) demanding details of their relationship with GCHQ and warning that an inadequate response will lead to their inclusion in an existing action against GCHQ. PI wants to know the telcos' policies for assessing the lawfulness of government requests, a description of any requests from the authorities to intercept information, any steps taken to oppose or resist such orders, and the amount they have been paid for their cooperation with governments.
The telcos are unlikely to respond – in some cases they will be forbidden by national law to acknowledge any cooperation with governments. But PI believes they have a responsibility under article 8 of the European Convention on Human Rights 'to take reasonable steps to protect customers' privacy.'
"Tempora," explained Eric King, head of research at PI, "would not have been possible without the complicity of these undersea cable providers. Despite the companies' obligation to respect human rights standards, particularly when governments seek to violate them, spy agencies are being allowed to conduct mass surveillance on their systems." He suggests that human rights obligations are especially important when the government requests are made without public scrutiny, and are governed by secret law.
"These companies," he adds, "are the last line of defense for customers against the government's intrusion into our private lives. What we, and the public, deserve to know is this: To what extent are companies cooperating with disproportionate intelligence gathering, and are they doing anything to protect our right to privacy?"
In July PI launched an action in the Investigatory Powers Tribunal challenging Tempora and GCHQ's access to the Prism program. Now it warns that if the pre-action letter does not get a satisfactory response, it will be adding the named telcos as respondents to its IPT claim.