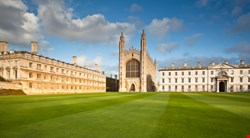 The university IT department is probing the claim but said that it has no reason to think – yet – that it is legitimate. Just in case, the databases have been taken offline while IT staff investigate the claims.
The group, which calls itself NullCrew, is part of the Anonymous hacking network, which was formed nominally to protest attempts to shut WikiLeaks down. Now, Assange faces extradition to Sweden for sexual offense charges, but has been given diplomatic asylum in Ecuador. Null Crew would like to see the charges dropped.
The group published what it says are 17 login details of academics in the Centre for Research in the Arts, Social Sciences and Humanities on Pasetbin, with details of what appear to be user names and passwords online with the message " It alerted the world to the break-in via Twitter.
"NullCrew, along with the whole Anonymous movement, isn't near finished with you. And we never will be, until the right thing is done with Julian Assange," it boasted . "Next time it will be worse, we guarantee it."
NullCrew seems to specialize in the education vertical. Back in July it said it obtained the personal information of 1,200 Yale students and staff members from university databases. The Ivy League bastion said that personal information for 450 participants in the Yale Initiative to Strengthen Teaching in Public Schools were affected. Null Crew published usernames, passwords and email addresses online.