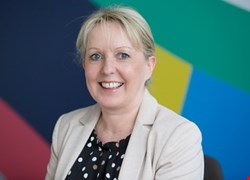 I wasn't intimidated by computers when I was growing up, but I wasn't that interested in them either. To me they were just another toy. My dad was an engineer and I remember him bringing home a VIC-20 (early computer) for my sister and I to play games on. We had to enter the code for the game to work, so I guess I became comfortable with using technology right from the start. But back then, working in IT wasn't really considered a professional career – it was all about being a teacher, a doctor or a lawyer.

Architecture was what excited me, but there was a housing slump in the 80s and my family pointed out that it might not be a viable career. They really cared about what I was doing and liked to help me make decisions about the big things. I was good at maths and enjoyed it, and the general consensus was that studying maths at University would give me more options for the future. I think it did.
I really enjoyed my maths degree and considered training to be a teacher after University, but I also fancied doing a Masters in something interesting. When I came across a course in Human Computer Interaction, the psychology elements really intrigued me. Plus by that point computers and the internet were starting to become a bigger deal, so it seemed like the right time to get involved. I liked being the one who knew all about this whole new world.

After completing my Masters degree I applied for GCHQ to be a mathematician. At that point I hadn't actually heard of GCHQ until a professor had mentioned it, but when I read about this world of spies, espionage and cool tech, my mind was made up. However, things don't always go to plan and I didn't get the mathematician job I'd set my sights on. At the interview though, GCHQ noticed my Masters topic and suggested I join the IT department instead. It was a brilliant alternative and I stayed with the organization for 15 years.
Looking back, there was only one other female in a class of 50 when I did my Masters, but it never bothered me. Of course, I was nervous about not knowing anyone like most people are in a new environment, but not nervous about being the only girl. At GCHQ the gender balance was better, and they were keen to encourage more women into the industry. I was often called upon during recruitment rounds to inspire other females to join us.

I've never seen gender stereotypes as a handicap. I had strong male role models growing up and was always proud of how much my dad did around the home. He didn't think cleaning and cooking were 'women's work' and I assumed we could all be whatever we wanted, regardless of our gender.

I've never been discriminated against due to my gender in a professional environment and I had no difficulties when I had my son and wanted to maintain my career. I'm now Head of Cybersecurity at Nominet. It's a big role; I'm responsible for keeping a critical part of internet operations in the UK resilient and secure. Flexible working – which many people are doing now – meant I could reduce my hours and drop days in the office to manage child care and do the school run. Now that my son is older (he is 9), he understands what I do and thinks it's cool, especially after he saw me on the BBC news!
Part of the gender imbalance in IT could be due to computers being seen as toys for boys. There needs to be a cultural change to stop girls thinking that working in IT is boring, too technical or just a 'boys thing' to do. It's definitely not like that, and I think it helps for girls to hear the truth about it. I recently did a talk at a secondary school to try to get the girls fired up about tech before they chose their GCSE options. After I'd been, 12 girls signed up to study Computer Science – the previous year they'd only had four!
My advice to girls considering a career in IT would be to look at the many opportunities that are available now. The roles on offer are so broad – it's not just about programming. Yes, there are technical elements, but so many jobs within IT and cyber are about the human involvement and interaction, which is fascinating. It's the new frontier and an exciting, fulfilling industry to work in, with jobs that command big salaries too. Don't dismiss it before having a good look at the opportunities open to you.
---
Cath Goulding is head of cybersecurity at Nominet and Board member of the Women's Security Society. Cath Goulding has over 15 years experience in the cybersecurity profession having worked for both UK Government and the private sector. A thought leader in her field, she frequently speaks at security and internet conferences and has provided articles and comments for multiple publications. Her career was has been profiled in the Financial Times and she was interviewed by BBC world promoting women into the IT profession. She also won Women in IT Security Champion of the Year in 2015.
---