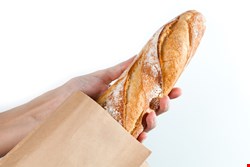 We've seen missing children photos on cartons of milk, and controversially, warnings about knife crime on boxes of fried chicken. When it comes to cybersecurity warnings though, the French branch of the armed forces with responsibility for internal security has taken an original step, with cybersecurity advice on the paper sleeves of baguettes.
According to French news website Actu, for better local communication, the Gendarmerie de la Manche partnered with the action group Cybermalveillance.gouv to distribute 10,000 baguette sleeves which included practical cyber-safety recommendations.
Among the warnings were advice points including: "Beware of beautiful promises," "No hasty clicks," "Do not communicate your personal data," and "Do not give in to blackmail" – all in the French language.
The sleeves were issued after further warnings about account takeover via phishing messages, and scam websites which Colonel Cyril Piat, commander of the provincial gendarmerie group of the Channel, said were prevalent in the "pre-holiday period." He explained that "means of payment, false advertisements are present every year" and the intention of the sleeves was to reach the widest audience with "generic safety recommendations."
This could be an interesting step forward; how many households buy a loaf or stick of bread, and throw away the bag or wrapping? Adding cybersecurity advice to capture one person's attention whilst they are making lunch or waiting for the kettle to boil may prove to be a clever idea.