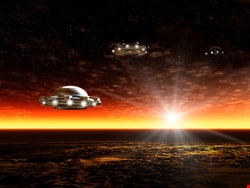 US authorities have been seeking extradition since 2001 and 2002, when he undertook hacks of NASA and other military departments in what a prosecutor said was "the biggest hack of military computers ever." The US government accused McKinnon of hacking 73,000 federal and military computers and causing some $800,000 in damage.
For his part, McKinnon admits that he hacked into Pentagon systems in 1999, but says that he had no ill intent. He says he was searching for evidence of UFOs and extraterrestrial life, and he thought the US might have energy technology that could aid humanity. McKinnon noted at the time that the hacks were easy, and denied getting caught – he said he told authorities about the security lapses.
If convicted, 46-year-old McKinnon faces up to 60 years in a US jail.

Last year, President Obama said that he would allow the UK to decide whether or not to extradite McKinnon, whose mother, Janis Sharp, has become a public figure as she fights for her son's freedom in the UK. She has been pleading for "compassion" in the form of a speedy resolution to the case.
If May rules in favor of the extradition, his lawyers are expected to apply for a judicial review to challenge that decision. In that event, "the High Court has fixed the case for hearing on November 28 and 29," said McKinnon's lawyer, Karen Todner.