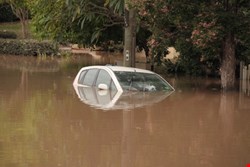 According to the report – part of the firm's ongoing security and risk professional service – it is a case of other business priorities taking precedence in these tough economic times.
The research – lead authored by Stephanie Balaouras along with Laura Koetzle and Nicholas M. Hayes – drew in responses from more than 2,700 IT executives in Canada, France, Germany, the UK, and the US. Business continuity and disaster recovery budgets have stayed at a constant 6% of IT operating and capital budgets, the report noted, despite the recent string of devastating and high profile disasters like Japan's earthquake and tsunami in early 2011.
Interestingly, researchers found that 32% of enterprises had planned to increase spending on business continuity and disaster recovery by at least 5% in 2011, although they stayed constant largely owing to the continuing economic uncertainty.
Even in the best of economic times, Forrester Research says that it is difficult to build the business case for an initiative like business continuity and disaster recovery that's primarily about cost avoidance rather than return on investment.
In tough economic times, this task is almost impossible, the report observed, adding that, with the threat of a double-dip recession on the rise in Europe and North America, now is a good time to understand what makes up the business continuity and disaster recovery budget and what you can do to keep these topics on the priority list.
The paper goes on to say that data center consolidation is a good opportunity to reduce the risk of your location as, historically speaking, enterprises located their data centers in close proximity to or in the same building
as their corporate headquarters regardless of the geographic risks.
During disaster recovery consolidation, however, Forester noted that firms often select new, less expensive locations or simply lease disaster recovery floor space from a co-location provider.
"This is your opportunity to influence the location of the data center and to select a location that has a significantly lower risk profile than your existing one – one that has a reliable source of power, less extreme weather and natural disasters, geopolitical stability", the report recommended.